Hi Arcangelo!
A brief description of my Dad's story and the results of Freederm AC cream:
My Dad who is 73 years old has been suffering from Arthisitis for the last four to five years. Last year he fell off the chair and broke his hip bone and had to have surgery. He started walking slowly after 10 days of surgery. This happened last year on 4th September. Then he started walking with a stick and because he was putting more stress on his other leg, it started really paining him a lot. In fact, recently, he was really suffering from pain in both legs as he couldn't straighten them fully and could not walk except for a few minutes. This really put him in real tension. It has been difficult for him to get up off the couch once he sits down. He was using some pain killers which have not proved effective. This made me look for something in the internet. Then I came across your website and I thought I should take a chance. So, I ordered the package which consists of 2 jars of Freederm AC cream, bath salts and supplements. We started using these last month. My Dad is seeing results in less than one month and with one bottle that he completed yesterday. Now,
he is able to go for a walk twice a day for half an hour each time. He is able to starighten his legs. He feels much better now. He wants to continue using this as he felt pretty happy with the results of the cream and quite confident that they are going to give him more relief in the coming months.
Our family members are definetely happier than him. I definetely hope that my Dad is going to get much better in the coming months and be able to walk as normal.
Thank you for the wonderful product. I am also sending my Dad's photograph. My Dad's name is V. S. R. Murthy. We are from India but settled in Canada.
Sincerely
Srinivas Varanasi
Son of V. S. R. Murthy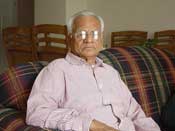 ---
Dear JointPainRemedy Customer Service,
After suffering for over three weeks with leg pains I went to an emergency room and was told the pain was caused from shin splint which is caused from over exertion. I read your article about "FreeDerm AC" on my computer and ordered it, which I recieved in only four days.
After using it twice IN ONE DAY my pain was almost gone. I used it only three more times after that day and the pain was completely gone.
I had used three different kinds of pain medication and none of them helped my pain. I would highly recommend your "FreeDerm AC" to anyone who may be suffering from joint or muscle pain to try it.
Jack Surridge
Illinois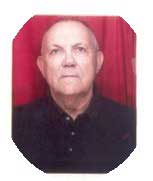 ---
Dear JointPainRemedy.com
I just wanted you all to know that I received your products of cream and liquid formula. I ordered it Sept. 18 and received it within days. I purchased this for my dogs arthritic elbow.
After 2 weeks of the liquid she has been acting as if she is a pup again.
Of course she still limps a little, especially after getting up from laying, but she does not limp like she used to. My husband and I are saving the cream for ourselves for when we will need it.
I just wanted to thank you for a great product. You have made me very happy and my dog too. I will continue to buy your products. Keep up the good work.
Thank you,
Leslie Benning
---
Dear Sirs,
I am a 63 year old great grandfather and have suffered with Carpal Tunnel Syndrome for about 2 years now causing numbness in my fingers and severe pain in my hand such that I have been unable to sleep. I am diabetic and surgery could cause complications with infection as I also suffer from severe leg ulcers that have been persistent for 2 years. Out of desperation I searched the internet for a cure and came across your site.
I have been using the Freederm AC Cream now for about a month & I found that after 2 days the pain had gone.
I can recommend this cream to give almost instant pain relief and will be ordering more as my current supply diminishes.
I thank you for this pain relieving product
Yours Truly
Allen Smith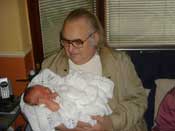 ---
To whoever this may concern,
Just want to say a big thankyou for your product it realy does work. I went on the internet in search of some advice about arthritis as my mother has it and was in severe pain with it. I come across your website and read your increadable story about how your grandmother was is so much pain for years with arthritis and how you set about finding an answer to the problem. When I read your story about how it affected you watching someone you love dearly in so much pain and nothing you could do Well i felt exactly the same. Here she was my mother who I love more than life itself in lots of pain and there was nothing I could do. I figured it was worth a shot trying your freederm cream.
Boy did i make the right decision the cream realy did work within minutes. Thankyou so much from me my mother and our family.
Terrence McMullen
p.s I have sent you a little photo of my mum with her cream and yes a SMILE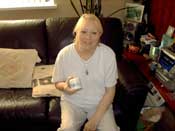 ---
To Whom It May Concern,
In regards to your Freederm AC cream. I am an 85 year old man who had arm pain. I tried every pain medicine on the market. Yours was the last straw.
It worked! I put on one or two applications daily and no pain. Sometimes I use it only once a day.
=
Your company is easy to work with, and I wish you continued success. I would hate to think I would have to ever do without this product. Please find attached my photo.
Sincerely Yours,
Everett Turner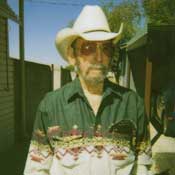 ---
Dear JointPainRemedy.com
I just turned 25 years old on September 29th and on October 5th,
I was diagnosed with carpal tunnel.
At such a young age I new surgery was not an option. So, I started researching the web and came across your product. I was skeptical at first, but I thought with the money back guarantee that you offer it was worth a try. I was on 2400mg ibuprofen, 1000mg of hydrocod before starting to use your product. This medicine made things worse for me. The pain pills made me so tired. It's really hard for me to be tired when I have a two year old son and a three year old daughter which you see on the picture.
I have been using your product twice a day and I haven't had anymore pain.
Thanks so much!
Melissa Locklear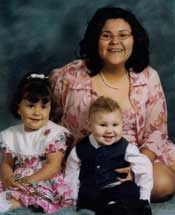 ---
Dear Sir/Madam,
I am 85 years old and have alewasy been an active person. I have enjoyed walking, gardening, and swimming on a regular basis.
I was recently diagnosed with arthritis in my hip. The pain was acute and I was prescribed drugs by my local G.P. Unfortunately these had various side effects and made life very uncomfortable.
I was unable to walk without the use of a stick. Getting in and out of the car proved very difficult and going up the stairs in my house was extremely painful. I felt I had lost much of my independence and had to rely on my wife to assist in many previously simple tasks.
When I saw your advertisement for Freederm AC Cream I was at the stage I would have tried anything to relieve the pain and discomfort. I have been using it regularly since and can hardly believe how well I am feeling. I have also taken your advice and changed my diet to assist in reducing inflammation.
As you will be able to see from the enclosed photographs, there has been a remarkable improvement and I no longer need to use a walking stick. I am able to drive again and plan to take a holiday soon.
I have been telling my friends how amazing Freederm AC cream has been.
Thank you for giving me back my independence and freedom.
Yours Sincerely,
David A. Boyd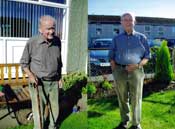 ---
To Whom It May Concern;
My knees have been bothering me for years. A few weeks ago, my left knee was so swollen and painful I could hardly walk. My daughter is the one that found your website. She was determined to find something for my pain. She ordered Freederm AC. I can't believe how fast it was shipped to us. The first few days I was putting the cream on alot.
After a week, the pain and swelling was gone. It was a miracle. Nothing has ever taken away this pain before. I am now walking without pain.
I will never be without Freederm AC. I have told all my friends and family about this miracle cream. I have also ordered the Joint Support Supplements.
Thank you,
Nancy Copp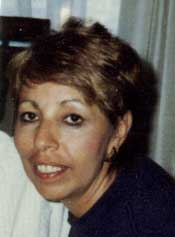 ---
Dear JointPainRemedy.com;
My Aunt was suffering from "Arthritis Joint" pains and she had tried various products for finding satisfactory relief from it. So during my research on the internet for "Arthritis" related products I found your "Joint remedy" product. Without any delay I decided to order the product.
I would like to express my deep heart felt thank you as it was a great feeling to see my Aunt recover from the "Arthritis" pain. She is extremely happy with the product's results
by all means and would certainly want to send her testimonial towards the same.
Please find attached a photo of my Auncle and Aunt.
Regards
Srinivas Anupindi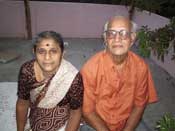 ---
Dear JointPainRemedy.com
I am over 100 years old and I wanted to thank you so much for your products. My daughter found you on the internet and I told her how what she was giving me to drink and what she was rubbing me with makes me feel a whole lot better.
The pain seems to just vanish away.
Thank you again and keep up the good work!
Eula M. Jordan Thomas
December 25th, 2005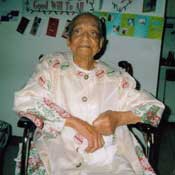 ---
I wanted to thank you so much for the rapid delivery of your product Freederm AC. My mother had been in tremendous pain over a 3 week period which caused many sleepless nights because of this pain in her knee and hip. Despite various medication she received from her doctor, nothing helped. In desperation I searched the internet for some help and came across your website, and hoped your cream could give her at least some relief.
Despite living in the UK, your cream only took 4 days to arrive and even after the first application, my mother's pain began to subside, and now after two weeks use she is totally painfree. I cannot thank you enough. My mother is now recommending your product to all her arthritic friends!!
It is so destressing seeing a loved one suffer, so I sincerely would like to recommend anyone reading this to try the Freederm AC, it really works.
With many thanks,
Catherine Dawson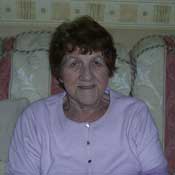 ---
Hi, over the years, heavy lifting, bending, working on my knees and being in a crouched position often has taken a toll on my joints and entire body. I got to be the ripe age of 52, I thought I could slow down and enjoy more time with my three granddaughters. But this last year I developed a terrible pain in my left knee. I laid in bed, gave up work, and all the things I should be enjoying in my mid life. I finally got up the nerve to see a doctor, I was afraid because the pain was so excruciating that I thought it must be serious.
Well the doctor narrowed it down to Bursitis, degenerative joint disease, or rheumatoid arthritis, and short of knee replacement, a life of pain and powerful pain pills!
Then a friend told me about Freederm AC cream, and I said why not.
After a short time the pain began to subside and I was able to walk pretty well and not take the strong pain medication. I can once again focus on enjoying the important things in life. I thank God for a second chance and look forward to using your other products, in conjunction with the cream!
I'm glad I gave your cream a try and can honestly tell everyone with joint pain [ it worked good on my lower back too] to try this, it's smooth, non greasy and has no smell!! I highly recommend Free Derm AC, thank you.
Sincerely
Deborah Sammauro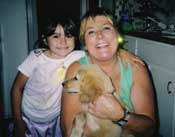 ---
I am seventy seven years old, and have suffered for years with hip and back problem. I would go to the Dr, and she would give me another prescription for medication, which is hard to spare on Social Security, nothing helped long and the pain would be back. Then I got on the internet looking for something, and came up on Freederm AC cream, I read all about it and decided to give it a try. Now I wish I could tell the whole world about it. How fast it works and how much it relieved my pain, I had not got a good nights sleep for years until the mail man brought it to my door within five days after I ordered it.
It's unbelieveable how fast it works,and without any kind of odor. Now I sleep good at nights, and when I get up in the mornings, can get out and enjoy my great grand children, My wife also uses it and said she would never do without it.
Thanks Freederm AC cream and to ever one that discovered and made this wonderful product
Buford Blankenship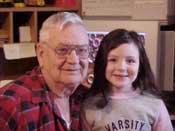 ---

We ship worldwide to all Countries
or call (716) 204-0246 24hr Order Line
Or